Legislative and Accountancy Board Update – May 2019
This month's update includes an update on conformity, information on a political party event, a member's political outreach, Accountancy Board appointments and information from this month's Accountancy Board meeting, and a PAC update.
Conformity Update
We continue to educate members about conformity, Wayfair and other matters impacting the state budget. Get regular status updates via our Connect site (formerly known as the listserv).
Political Party Event
The ASCPA PAC supported the GOP (Republican) House and Senate Victory PAC event. Thank you to members Lisa Lumbard and Jared Van Arsdale who attended this event along with Cindie Hubiak to represent the Society.
Member Political Outreach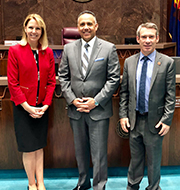 ASCPA member Ron Butler (pictured center) recently met with Representative Butler (on left) and Representative Lieberman (on right) and discussed many issues impacting Arizona.
Accountancy Board Appointments
Governor Ducey appointed Lisa B. Lumbard, CPA,the Society's recommended candidate, to a five-year term on the Accountancy Board. The governor also appointed Michael Levine to a five-year Public Member position on the Accountancy Board.
Accountancy Board
At this month's Accountancy Board meeting, Executive Director Monica Petersen, provided a legislative update, noting that legal advice is being obtained in some areas. The Board approved a rule package to clarify and provide consistency to the Arizona Administrative Code and to comply with the five-year rule review.
Teresa B, Finley, CPA, was appointed to the Board's Certification Advisory Committee and Leslie B. Stackpole, CPA, was appointed to the Board's Tax Advisory Committee. Their continued volunteer service is appreciated.
PAC Update
Thank you to the many members who kicked off our fiscal year with contributions to the ASCPA PAC as part of their membership dues renewal. If you have not done so, please contribute and/or share this link with someone who will invest in the future of the profession to make sure our CPA voice is heard. Online PAC Donation Information.
For additional information on our advocacy activities, please contact Cindie Hubiak or Paul Kern.