Karen K. McCloskey, CPA, Earns Life Member Status
By Haley MacDonell
Celebrate our 2023 Life Member at the ASCPA's Annual Meeting & Awards Luncheon. Learn about the event: www.ascpa.com/annual.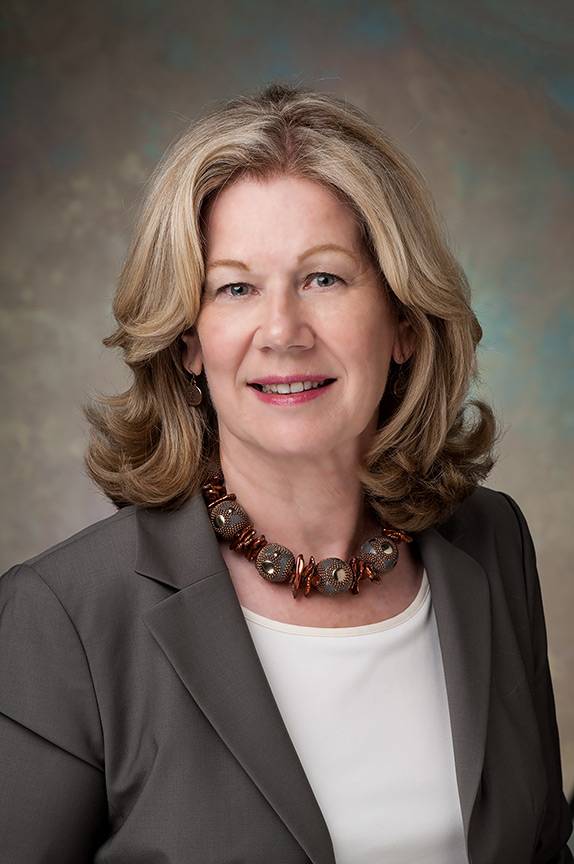 When Karen K. McCloskey, CPA, MST, learned she had been awarded Life Member status at the ASCPA, she had just returned from the trip of a lifetime. She and her husband Bill left Tucson, Arizona, in June 2022 and drove west to San Francisco in a travel trailer to visit their children and grandchildren. It was the first stop on a four-and-a-half-month adventure on the road that spanned the entire country. They hiked in Maine, visited national parks like the Badlands and stayed to see the peak of gorgeous, fall foliage in the White Mountains of New Hampshire.
"We discovered a lot of beauty that we hadn't seen in this country," she remembers. "We searched out the best lobster roll. Even though there is no right answer for that, the search was worth it."
Their favorite was ultimately Connecticut style with fresh lobster and melted butter.
"Part of that trip comes to me every single day, in the freedom that Bill and I had together," McCloskey says. "We were just discovering what's around us and what we want to do. I love the freedom of that, to be an explorer on the road."
After 30 years in public accounting, McCloskey has started to slow down from a busy career, generous service to nonprofits and essential work on the Arizona State Board of Accountancy.
The Road to CPA
After graduating with a degree in social sciences, McCloskey turned to a career counselor for advice.
"Why don't you sign up for the federal exam?" McCloskey remembers the counselor say. It would set her up to work in a government job. She took the exam and checked every available box for a position. The Internal Revenue Service was the first agency to call and schedule an interview with her for a tax auditor role. With the encouragement of her career counselor, she went to practice her interview skills and ended up with a job offer.
"I've always had a propensity toward numbers, calculations and the law, so it fit naturally," she says. "There were fledgling women's programs and opportunities for career advancement. That's when I started taking accounting courses to be qualified to sit for the CPA exam."
McCloskey worked at the IRS for six years and in that time followed her then-boyfriend, now husband Bill to Santa Barbara, California. As McCloskey studied accounting – eventually culminating in her master's degree in taxation— and her husband worked on his Ph.D., they had a rhythm to their routine. They'd have dinner together and then go study at the library.
McCloskey knew she didn't want to be an enforcer, but she remembers being told that if she left the IRS for public accounting, it would be too difficult for her as a woman and as a mom. The only CPAs she had interacted with were the men in suits who came to the IRS to represent their clients.
In Her Community
Ultimately, she followed her ambition and joined BeachFleischman in 1998. Over the next 24 years, she took on more responsibility, mentored other staff and became a subject matter expert in not-for-profit accounting. She loved solving challenges and helping clients. Behind each transaction was an important, human moment —divorces, marriages, business mergers and entire livelihoods.
"She became one of the first real not-for-profit CPA experts in the state of Arizona," recalls Bruce D. Beach, CPA, who was a managing partner at BeachFleischman at the time. "She was very technically competent, and we had her build a not-for-profit team that really catered to that industry."
BeachFleischman, which had traditionally been a general practice, began to have a specialized team in not-for-profits, led by McCloskey. Since then, the organization has expanded into other niches, like construction and real estate.
"The firm still functions at a high level in part because of the people she trained and mentored during her years there," Beach explains.
Kelly L. Meltzer, CPA, is one of those mentees. As Meltzer took her first job in the industry after earning her degree, she crossed paths with McCloskey in 2000 at BeachFleischman. She remembers brainstorming solutions together and flipping through McCloskey's paper copies of the Internal Revenue Code and the treasury regulations.
"She sparked enthusiasm in me for working with nonprofit clients, and that was the specialty I ended up pursuing," remembers Meltzer, who is a senior manager at the company. "She has the best reputation with the nonprofit community, and anybody who's ever worked under Karen has always felt how much she wants to see people succeed."
Outside of BeachFleischman, McCloskey volunteered her time with local nonprofits including the Tucson Botanical Gardens (TBG) where she served on the board for 15 years, including as president and treasurer.
"The Tucson Botanical Gardens, in my mind, is world class," McCloskey says. "People come to Tucson to see venues like the this, and it's one more place that helps me have a deep appreciation for the beautiful Sonoran Desert. To me, it was the most important charity work that I've done."
She was treasurer during the economic downturn in 2008 and 2009. Only one year later, TBG was audited unexpectedly by the IRS.
"Karen is a nonprofit director's dream board member," says Michelle Conklin, executive director of the Tucson Botanical Garden. "[The audit] was made so much easier under the guidance of Karen. She lifted the burden off our shoulders."
For the Profession
One of McCloskey's most notable contributions to the profession was her ten years with the Arizona State Board of Accountancy, including five years on the Law Review Committee and as president from 2013-2014.
The Law Review Committee updated the Board's statutes related to the regulation of firms to make them more consistent with the Uniform Accountancy Act, and many updates were needed. Before the updates, the law still had the expectation that the exam would be penciled in on paper forms. Because of the significance of the updates, the Law Review committee didn't meet for the several years after, a testament to the committee's diligence.
During that time, McCloskey spent a lot of time with ASCPA leadership as she navigated commitments to the Board and attended National Association of State Boards of Accountancy meetings. She also served on the ASCPA Board of Directors during the early months of the COVID-19 pandemic.
"The ASCPA is the only organization whose mission is to help the profession with their education, their reputation and applicable legislation," McCloskey explains. "The connection between the CPA community and the Arizona legislature is critical, and they've done such a good job at making that connection."
Mark Lawrence Landy, CPA, served with McCloskey for several years on both the State Board of Accountancy and the committee, which met monthly for 18 months to tackle the massive undertaking.
"Karen's attention to detail and her listening skills made her an invaluable member of both the State Board and the Law Review Advisory Committee," Landy says. "When she spoke, it was always to ask a pertinent question or provide a thoughtful solution."
McCloskey is a firm believer that trust in the CPA profession is valued above all else.
"I have a real appreciation and gratitude to the profession that maintains the public trust; it makes me proud to be a CPA," she says.
Haley MacDonell is the communications manager for the Arizona Society of CPAs. She is the editor of the ASCPA's magazine, AZ CPA.