The Phoenix Tax Workshop is now hosted exclusively online on Fridays from 9 a.m. to noon.
The Phoenix Tax Workshop was established in 1961 to educate professionals in all areas of taxation – federal, state and local. This group of tax professionals meets eight times per year at their Friday CPE/CLE sessions.
low-cost, Convenient, current
Why Participate?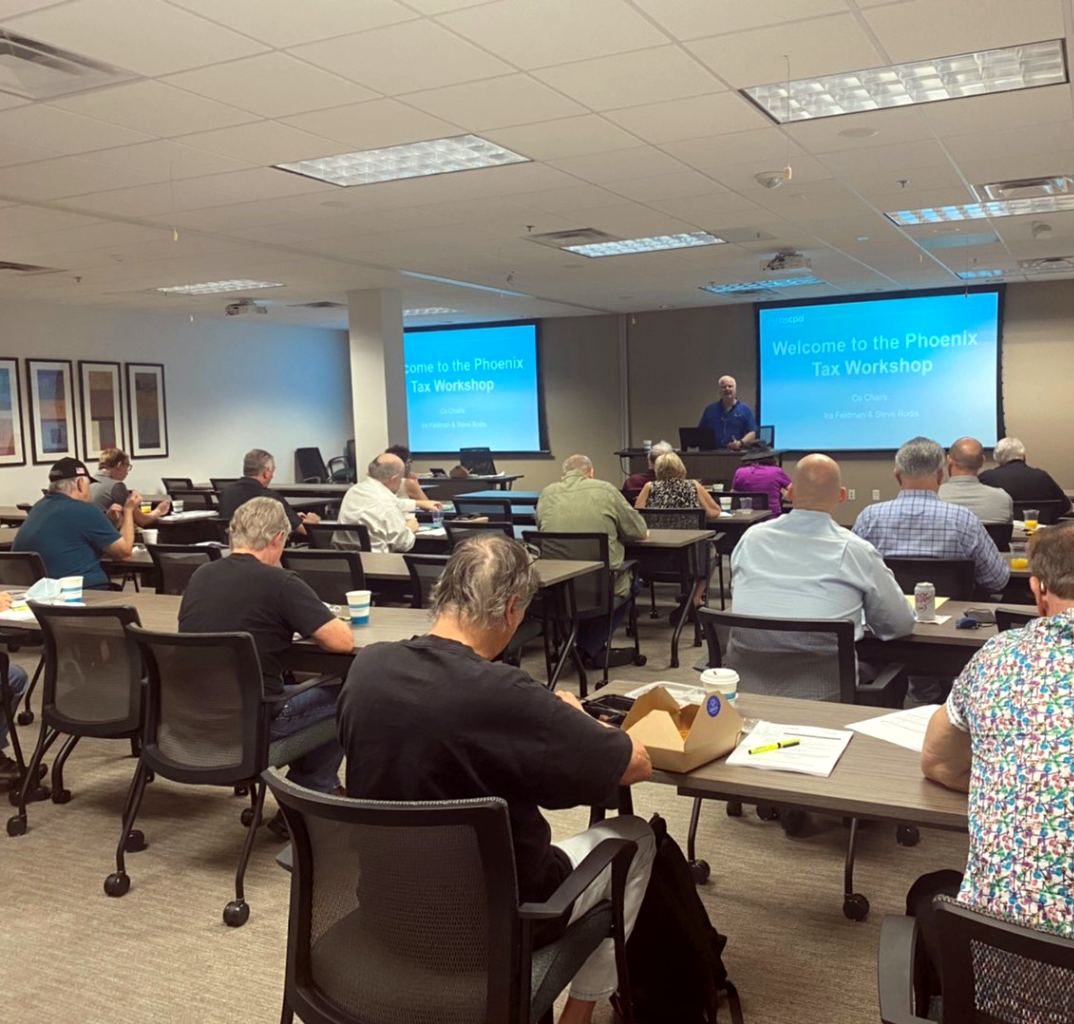 Low-Cost, High-Quality CPE – The annual fee of $375 includes the opportunity to receive at least 24 hours of CPE/CLE credit per year.
Convenience – You may enjoy the convenience of watching where you are via webcast.
Current Tax Issues & Court Cases – Each agenda will include a variety of speakers who will discuss recent tax issues and court cases that may impact your clients or business.
Two Ways to Sign Up
Click the button below to register for the series
Join/Renew your membership and check the box on the dues invoice
As an added bonus, registrants of the annual series will also receive access to a recording of each session.
Try Before Committing
Want to try a session before committing to the annual series program?
Attend a single session for $70
If you decide to register for the annual series, the single session's fees will be applied toward your annual fee.
Thank you to our volunteers
Advisory Board
---
Brandon Keim, Esq., - Co-Chair,Frazer, Ryan, Goldberg, & Arnold, LLP
Jakob M. Klein, CPA - Co-Chair,Wallace, Plese + Dreher, LLP
Timothy Baughman, Northern Trust Bank of Arizona
James G. Busby, Jr., Esq., CPA, The Cavanagh Law Firm
Christopher T. Coots, CPA, JD, PFS, CLA (CliftonLarsonAllen)
Pat Derdenger, Esq., Lewis Roca Rothgerber, LLP
Ira S. Feldman, CPA, CVA, Felco Business Services
Alan Gold, CPA, Matthews, Gold, Kennedy & Snow, Inc.
Stephen Hart, CPA, Stephen Hart PLLC
Brian Hartstein, CLU, Economic Concepts, Inc.
Steven R. Herman, Esq., Steven R. Herman, Ltd.
Eliot Kaplan, Esq., Perkins Coie
Michael D. Lemme, CPA, Hunter Hagan & Co., Ltd.
Kelly C. Mooney, Esq., Spencer Fane, LLP
Thomas Murphy, Esq., Murphy Law Firm
James F. Polese, Esq., Gammage & Burnham, PLC
Burgess J.W. Raby, Esq., Raby Law Offices
Gregory A. Robinson, Esq., Farley, Robinson & Larsen
Stephen J. Rodis, CPA, Wallace, Plese + Dreher, LLP
Joyce A. Rolfes, JD, CPA, CFP, Five Peaks Financial Consulting, Inc.
Thala Taperman Rolnick, CPA, Thala T. Rolnick, CPA, PLLC
Yesenia Barraza Simmons, YB Company, LLC
Jason M. Silver, Esq., Silver Law PLC
Paul Valentine, Esq., Jennings Strouss & Salmon, PLC
Edward K. Zollars, CPA, Thomas & Zollars, LTD